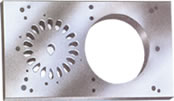 Wellington DH (D-2)
Wellington Deepest Hardening higher chrome air hardening tool steel provides the best air hardening tool steel available for long run die applications. High resistant properties are combined with very low distortion in heat treatment and with fair toughness properties.
BEST WEAR RESISTANCE
Wellington DH exhibits the highest wear resistance available in an air hardening tool steel, making it an excellent steel for long run die applications.
LOWEST DEFORMATION
Retains its size better than other types of tool steel To avoid almost all size changes during heat-treatment temper between 900 and 950 F.
DEEP HARDENING
Depth of hardness penetration provides longer die life in high wear applications.
HEAT TREATMENT
Forging: 1900 F to 1950 F
Preheat to 1200 F cool on dry insulation material.
Annealing: 1625 F 1650 F
Hold at annealing temperature approximatly 1 1/2 hours per inch of maximum cross section. Reduce furnace temperature 25F per hour to 900 F and then allow to cool room temperature in furnace.
Approximate hardeness will be 230 Brinell.
Hardening: 1850 F Air Cool
Preheat to 1200 F and hold approximatly 1 hour per inch of greatest thicjness before increasing to final hardening temperature. Hold at final hardening temperature approximatly 1 1/2 hours per inch of greatest thickness. Air cool until hand warm, temper immediatly. Do not cool down to room temperature before tempering.



TEMPERING:
Based on 1" square, minimum 2 hours per inch of greatest thickness.
Tempering Temperature F
As quenched
300
400
600
800
1000

Rockewell
C
65
63
62
61
61
58
SIZE RANGE
Rounds
Flats
Squares
Forgings

1/4" to 24"
1/2" to 8" thickness 3/4" to 18" width
1/2" to 6"
To specifications
APPLICATIONS
Tools
Dies
Forming Rolls
Drawing Dies
An outstanding tool steel for maximum production.