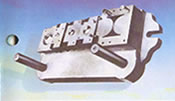 WELLINGTON AH
Wellington AH An air-hardening tool steel offering safer hardening with less deformation than oil hardening grades. Wellington AH is an economical grade of tool steel which provides excellent wear characteristics, low deformation and anneals "dead soft" for ease of machining.
SHOCK RESISTANT
Temper at 350 F. to 400 F for applications requiring high wear and shock resistance. For unusually high high schock resistance, draw at 900 F., however some wear resistance will be sacrificed at this draw temerature. Equal in toughness to some shock resistng grades.
NON-DEFORMING
Low deformation minimizes cracking and warping in heat treatment.
GOOD MACHINABILITY
Spheroidized annealing at the mill assures homogenous grain structure, reduces "hard spots" , removes residual rolling stresses and imparts excellent machining qualities.
HEAT TREATMENT
Forging: 2000 F
Preheat to 1250 F and then raise to final forging temperature. Hold until evenly heated. To minimize possibility of cooling cracks, bury in insulation material immediately after forging.
Annealing: Pack at 1650 F
Heat slowly to annealing temperature. Furnace cool approximately 20 F per hour t o1000 F. Then air cool. Resulting hardness will be approximately 210 Brinell. To prevent decarburization a controled atmosphere furnace should be used or the steel should be packed in a sealed container with ashes or some other inert material. Normalizing is not required because of the air-hardeneing properties.
HARDENING: (Air Cool 1775 F to 1800 F)
Slowly preheat to 1200 F and hold for one hour per inch of diameter. Then transfer to furnace at 1775 to 1850 F until heated through ( approximately one hour per inch of thickness after final temperature has been reached). Use controlled atmosphere furnace or pack in inert material. Air cool after removal from furnace untill hand warm then temper immediately. Best wear to toughness ratio is achieved at 400.