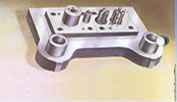 The most versatile of the tool steels. Often refered to as the "General Purpose Tool Room Steel." Excellent saftey in hardening, little distortional change in heat treatment.
HEAT TREATMENT
Forging: Slowly to 1850F-1950F Cool slowly on ashes, dry lime or other insulating material.
Normalizing: Do not normalize.
Annealing: Heat slowly to: 1450 F Furnace cool 20 per hour to 900 F, Then air cool.
Average brinell hardness 202.
Hardening: 1475 F (Quench in oil) Temper immediatly after quench.
Tempering Temperature F
As quenched
400/
500
600
700

Forging
Slowly to:
1850 F to 1950 F

Rockewell
C
64
62
58
56
54
Annealing
Heat Slowly To:
1450 F

Hardening
1475 F (Quench in Oil) for Minimum Decarburation Pack or Heat in Atmosphere Furnace.
Quench at 150-300 F Temper immediately.


Medium Shock Resistance

Medium Wear Resistance

Medium Deformation Expands Slightly

SIZE RANGE
Rounds
Squares
Flats
Forgings


1/4" to 14"
1/4" to 10"
1/2" to 4" thickness 1/2" to 12" Width
Available to custom specifications

APPLICATIONS
Dies
Rolls
Punches
Shear Blades
Bushings
Knives
Spindles