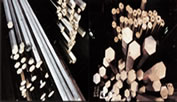 WELLINGTON WELL SHOCK
Shock Resistant, Non-Tempering Tool Steel
Wellington Well Shock
A first quality air hardening, shock resisting tool steel. Because this grade is quenched in still air it displays similar non-deforming deep hardening characteristics as other air hardening grades, and delivers higher shock resisting properties.
EASILY MACHINED
Because of its ability to anneal "dead soft", Well-Shock displays ease of machining within 95% of carbon steel range.
DISTORTIONAL PROPERTIES - SAFE HARDENING
Well - Shock is an air hardening shock resiting tool steel, as opposed to a water hardening tool steel, greatly reducing the hazards of quench cracking and deformation.
APPLICATIONS
Short Run Dies
Chisels
Plastic Mold Dies
ADVANTAGES
Deep Hardening in Air
Low Distortion
Highly Resistant to Shock
Safe Hardening
THERMAL TREATMENT
Forging
1850 F to 1950 F
Stop forging at 1650 F
Annealing
1425 to 1475 F (Furnace cool to Max 229 BHN) Cool Slowly to 1000 F
Hardening
1625 F (Water Quench at 1550 F)
Hold at temp no longer than 1/2 hour per inch of thickness.
Better hardenability of any shock steel. Toughest of all shock steel. For cold work and medium hot work applications requiring high resitance to shock. Best machinability. Anneals to 197 BHN
Tempering Temperature F
As Quenched
500
700
1000

Rockewell
C
58
55
47