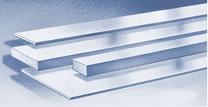 Ground Flat Stock available in oil and air-hardening grades. Other grades available on application. Precision ground surface reduces machiing time, saves tool and labor costs. Ground Flat Stock is VIP packaged and labeled at the mill to assure perfect ready-to-use stock on delivery. Furnished annealed.
TOLERANCES
Thickness: .001. Width:+.005,-.000. Slices square and parallel. Finish: 10-35 moicro-inches. Closer tolerances available on request. Special oversize tolerances, such as +.020" to .035" and non-standard siszes available on request.
SPHEROIDIZED ANNEALED
Provides a homogenous fine grain structure for toughness and excellent machability.
HEAT TREATMENT
Oil Hardening Grade
Annealing: 1450 F
(Hold 2 to 3 hours). Furnace cool to 900 F
Hardening:
Preheat to 1200 F, then heat to 1450 F - 1500 F and quench in agitated oil intil hand warm. Temper immediately after quench.
TEMPERING
Temper for a minimum of 2 hours.
Tempering Temp


Rockwell
C

As Quenched

64 to 65

300

63 to 64

400

61 to 63

500

58 to 60

600

56 to 58

700

53 to 55
HEAT TREATMENT
Air Hardening Grade (AH)
Annealing: 1650 F (Holds 2 Hours).
Furnace cool.
Hardening: Preheat to 1500 F, then heat to 1750 F-1800 F. Use controlled atmosphere furnace or pack harden. Air cool until hand warm and then temper immediately.
SIZE RANGE
Lengths - 18 and 36" (special lengths on request)
Thickness - 1/64" to 4" (larger thickness on request)
Widths - 1/2" to 16" (special widths on request)
Squares - 1/8" to 4"
Length on L0 Carbon is 24"