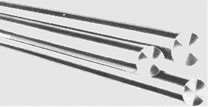 WELLINGTON DRILL ROD
An oil-hardening tool steel drill rod offering extended service life when compared to commercial grades of carbon drill rod.
WEAR RESITANCE AND TOUGHNESS
Exhibits the good wear characteristics and toughness required in most tooling drill rod requirements.
HARDENING
Easily hardened with low deformation on heat treatment.
TOLERANCES
Furnished ground to size with all surface decarburization removed to the following standard tolerances:.
.124 and smaller plus or minus .0003"
.125 to .499 plus or minus .0005"
.500 to 2.00 plus or minus .001"

HEAT TREATMENT
Hardening: 1475 F oil quench until hand warm and immediately temper.
Tempering: 400 F provides 60-62 rockwell "C" 500 provides 58 Rockwell "C.
SIZE RANGE
Sizes from 1/16" to 2" round in 1/16 increments. Standard length is 3'. Some sizes available in 32nds of an inch.
APPLICATIONS
Drill Rod Pins
Dies
Jigs
Fixtures